Watch From Home
In My Blood It Runs
(84min NR) 2020 Australia Maya Newell, director
VIRTUAL CINEMA Jul 3 - 31
WATCH FROM HOME
An intimate and compassionate observational documentary from the perspective of a 10-year-old Aboriginal boy in Alice Springs, Australia, struggling to balance his traditional Arrernte/Garrwa upbringing with a state education.
John Lewis: Good Trouble
(96min PG) 2020 USA Dawn Porter, director
VIRTUAL CINEMA Jul 2 - 31
WATCH FROM HOME
Using interviews and rare archival footage, JOHN LEWIS: GOOD TROUBLE chronicles Lewis' 60-plus years of social activism and legislative action on civil rights, voting rights, gun control, health-care reform and immigration. Using present-day interviews with Lewis, now 79 years old, Porter explores his childhood experiences, his inspiring family and his fateful meeting with Dr. Martin Luther King Jr. in 1957. In addition to her interviews with Lewis and his family, Porter's primarily cinéma verité film also includes interviews with political leaders, Congressional colleagues, and other people who figure prominently in his life.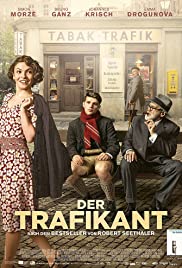 The Tabacconist
(117min PG) 2020 USA Nikolaus Leytner, director
VIRTUAL CINEMA Jul 10 - 31
Based on the international bestseller by Robert Seethaler. A tender, heart-breaking story about one young man and his friendship with Sigmund Freud during the Nazi occupation of Vienna....
The HipPea offers Art Theatre visitors a fresh and healthy alternative to traditional fast food – Falafel! Made from organic chickpeas their Gluten-Free falafel is based on a secret family recipe.
VISIT THE HIPPEA ►
Our intimate wine bar brings you the best in personally chosen wines from around the globe. Enjoy artisanal meats and cheeses to make your visit a complete evening to remember.
ABOUT ART DU VIN ►
Voted THE NUMBER ONE INDEPENDENT THEATRE in Los Angeles, the Art opened as a silent movie theatre and included a pipe organ and orchestra pit. It is the oldest operating single screen house in Long Beach. Our art deco, streamline moderne-style historical landmark is famous for its screening of the most imaginative and stimulating independent, documentary, animated, alternative lifestyle, and foreign language films. After one million dollars of loving restoration, the addition of a wine bar and coffee bar, The Art Theatre is the perfect destination for memorable evening.
Stay up to date with Art Theater news and events.