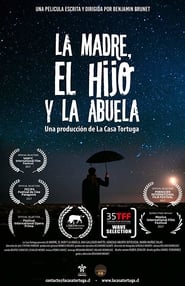 The Mother the Son and the Grandmother
82 min
The film, directed by the award-winning Chilean filmmaker Benjamín Brunet portrays the encounter of three characters in the town of Chaitén after the eruption of the volcano located in the province of Palena. Cristóbal arrives in town to find his roots. The young man photographs the devastation that has resulted from the natural catastrophe that occurred in 2008 and he meets Ana and her mother, Maria. The intensity of the encounter will trigger deep moments of change for both Cristobal and his newfound companions.
DIRECTOR QUOTE
This movie is dedicated to my dead father and to all those who have grieved or lived the lost someone beloved. It is an introspective work that seeks to reflect on a certain time in Chile and keep intimate conversations and day to day family moments alive. With this film, I wanted to cheat time and death.
DIRECTOR BIO
BENJAMÍN BRUNET, January 29, 1988, Osorno, Chile. Audiovisual Communicator, Diploma in Appreciation and Writing of Contemporary Cinema of the Chilean Film School and with studies in the EICTV, Cuba. Winner of the Los Lagos Regional Art Prize 2016 Founder and Director of the production company La Casa Tortuga (Turtle House). As a screenwriter and director, he made the fiction short film "El ritmo de la creación" (2009), the short documentary film "Agua Negra" (2017) created in Doculab Patagonia. LA MADRE, EL HIJO, LA ABUELA is his fiction feature film debut, made in the city of Chaitén after the eruption (Chilean Patagonia). With BLACK EYED MARÍA (in development), it was the only Chilean project selected for MIA PITCH & FORUM at the Rome Film Market. He was also a LAVA scholarship-holding and winner of LABEX 5 and Encounters BioBioCine 2018.