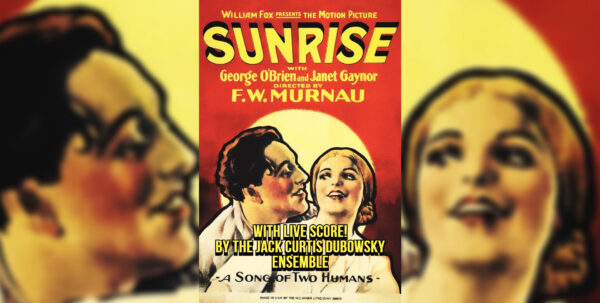 About Jack Curtis Dubowsky Ensemble
JCDE sparks new life with original scores to classic silent films including Nosferatu, The Golem, The Phantom Carriage, Sunrise, Dr Jekyll and Mr Hyde, and The Mark of Zorro, for which they released a soundtrack album ZORRO in 2017. A team of top players led by composer and conductor Jack Curtis Dubowsky, JCDE combines intricately composed material and structured improvisation.
JCDE consists of composer and conductor Jack Curtis Dubowsky, Jeff L. Schwartz (double bass), Charles Sharp (woodwinds, electronics), R. Scott Dibble (keyboards), Lisa Yoshida (violin), Sean Stackpoole (flutes), Slam Nobles (percussion), and Audrey Harrer (harp).
Summary: A sophisticated urban woman seduces a farmer in the hopes that he will murder his neglected wife and join her in the city, but he ends up rekindling his romance with his wife when she discovers their scheme.