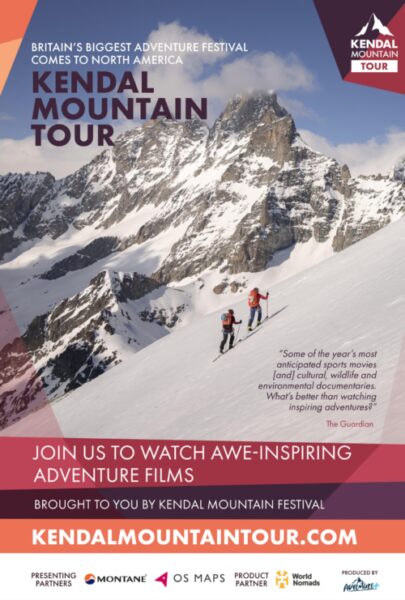 Join us in Long Beach for the inaugural season of the Kendal Mountain Tour presented by Montane and OS Maps.
About this event
Unleash your adventurous side…
Join us for an evening of amazing short films celebrating adventure from some of the most spectacular places on earth, brought to you by the team behind Britain's biggest adventure festival the Kendal Mountain Festival. You'll be guided through a curation of stories from across the globe, told by a unique collection of travelers, athletes, activists and creatives. Through culturally rich, cinematically beautiful and thought provoking films we'll ask; what is possible in a changing world, what is beautiful, what is wild and what defines adventure?
A taste of what's in store for you at the Kendal Mountain Tour 2022
The Process – Director – Matt Pycroft – ColdHouse Collective – UK, 15 minute film
Tom Randall is a world class crack climber. He is also a terrible runner, which is why his latest challenge seems like an odd choice. He decided to link up two of the Lake District's biggest and toughest endurance challenges, the Bob Graham Round and The Classic Rock challenge into one hellish 24 hour mad dash. A funny, honest, genuine and heartfelt story.
Spellbound – Director – Richard Sidey – NZ – 5 minute film
Wingsuit BASE jumping is often presented as a thrill-seeking adrenaline rush. Spellbound takes us deeper into the more contemplative aspects of jumping, as David Walden and friends venture into the mountains around his home in New Zealand.