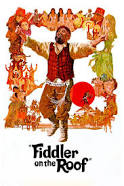 Fiddler on the roof sing along
180min
JOIN US TUESDAY, DEC. 24th for an alternative Christmas Eve. That's right – It's time for our 1st Annual, anything-goes Fiddler on the Roof Sing-a-Long!
6:30pm event start
6:45pm Candle lighting
7:00pm Film start
Belt out your holiday spirit … or your holiday frustrations. Either way, you'll feel better as you croon along to all-time favorites like "TRADITION," "IF I WERE A RICH MAN," "TO LIFE," "SUNRISE SUNSET," "DO YOU LOVE ME?" and "ANATEVKA," among many others.
The evening includes trivia, prizes, and by all means — we encourage you to come in costume! Guaranteed fun for all. Children are welcome (Fiddler is rated "G") though some themes may be challenging for young children.
Typically, Fiddler sells out … so don't miss the buggy!
ABOUT THE FILM:
Oscar-winning adaptation of the Broadway musical about life among the Jewish community of a pre-revolutionary Russian village. A poor milkman, determined to find good husbands for his five daughters, consults the traditional matchmaker – and also has a word with God.